HELITE B'SAFE
YOU WOULDN'T DRIVE WITHOUT AN AIRBAG WHY ARE YOU CYCLING WITHOUT ONE?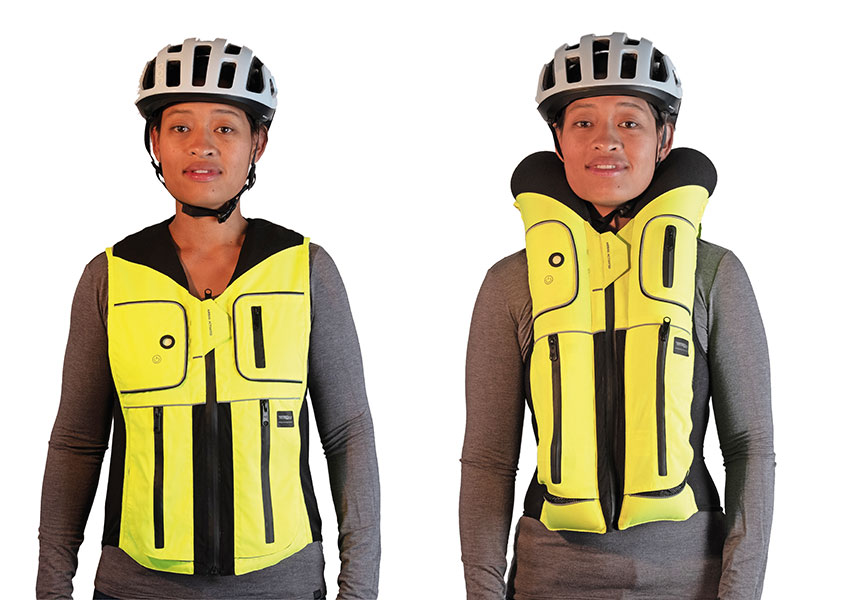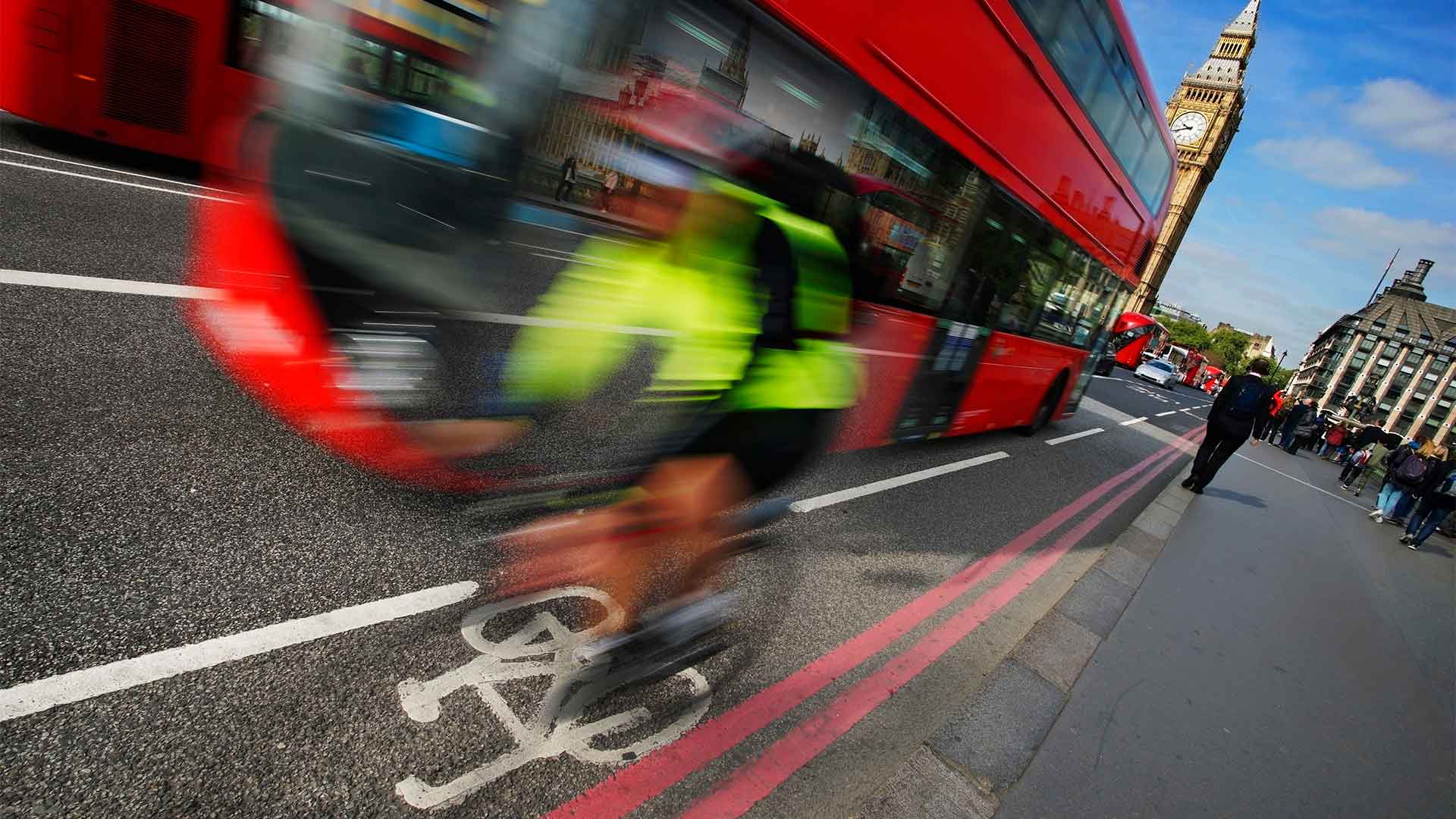 HELITE B'SAFE
AIRBAGS ARE FOR LIFE.
HELITE B'SAFE
TOGETHER WE MIGHT JUST SAVE YOUR NECK
WORLD'S FIRST WEARABLE CYCLING AIRBAG.
HELITE B'SAFE is a revolution in personal protection for urban cyclists. In the UK we have vulnerable road users sharing the road space with traffic of all kinds. Cycling is healthy exercise but the risks of being hurt remain high with 16,498 cycling injuries recorded by UK Police Forces in 2018. (UK DfT figures).
ELECTRONIC WIRELESS TRIGGER
A full HELITE airbag system is integrated into a lightweight gilet. Electronic sensors in the vest and on the frame of the cycle share information. An advanced algorithm analyses the data to determine whether the airbag should be deployed. These include lean angle, shock to the cycle frame (indicating collision) and abnormal changes in speed.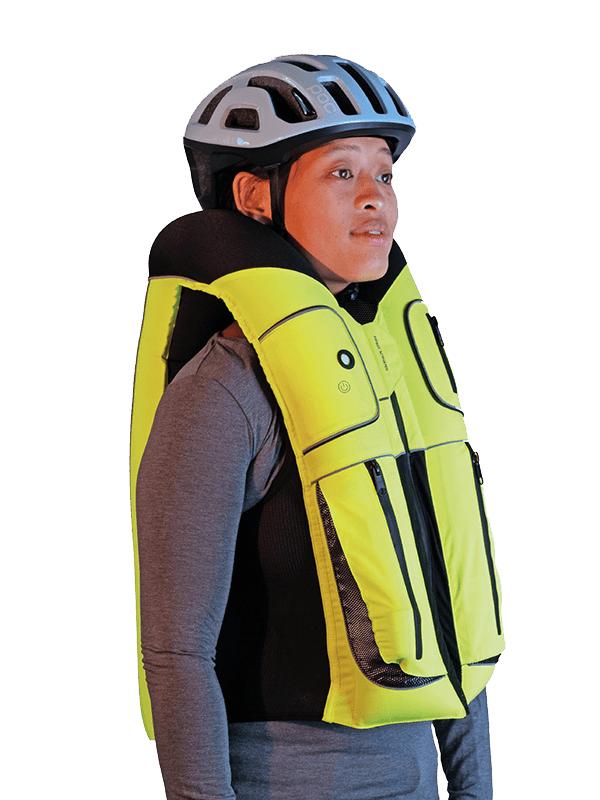 PERFECT FIT
For a perfect fit, consult our HELITE B'SAFE CYCLING AIRVEST FITTING GUIDE. We can arrange virtual fittings or you can come and visit our fitting centre. We are open evenings and weekends to fit around your busy life.
BE SEEN
HELITE B"SAFE brings together our highest level of airbag protection with outstanding visibility. Cleverly integrated into the design are front and rear retro-reflective strips and piping to brighten even the darkest of days.
KEEPING CLEAN
Keep your HELITE B'SAFE air vest at its best with a little TLC. Wipe off after riding, and follow our AIRBAG CLEANING GUIDE. For the best results, simply sponge down. Do not immerse the electronics in water. After all, you have a bright future ahead.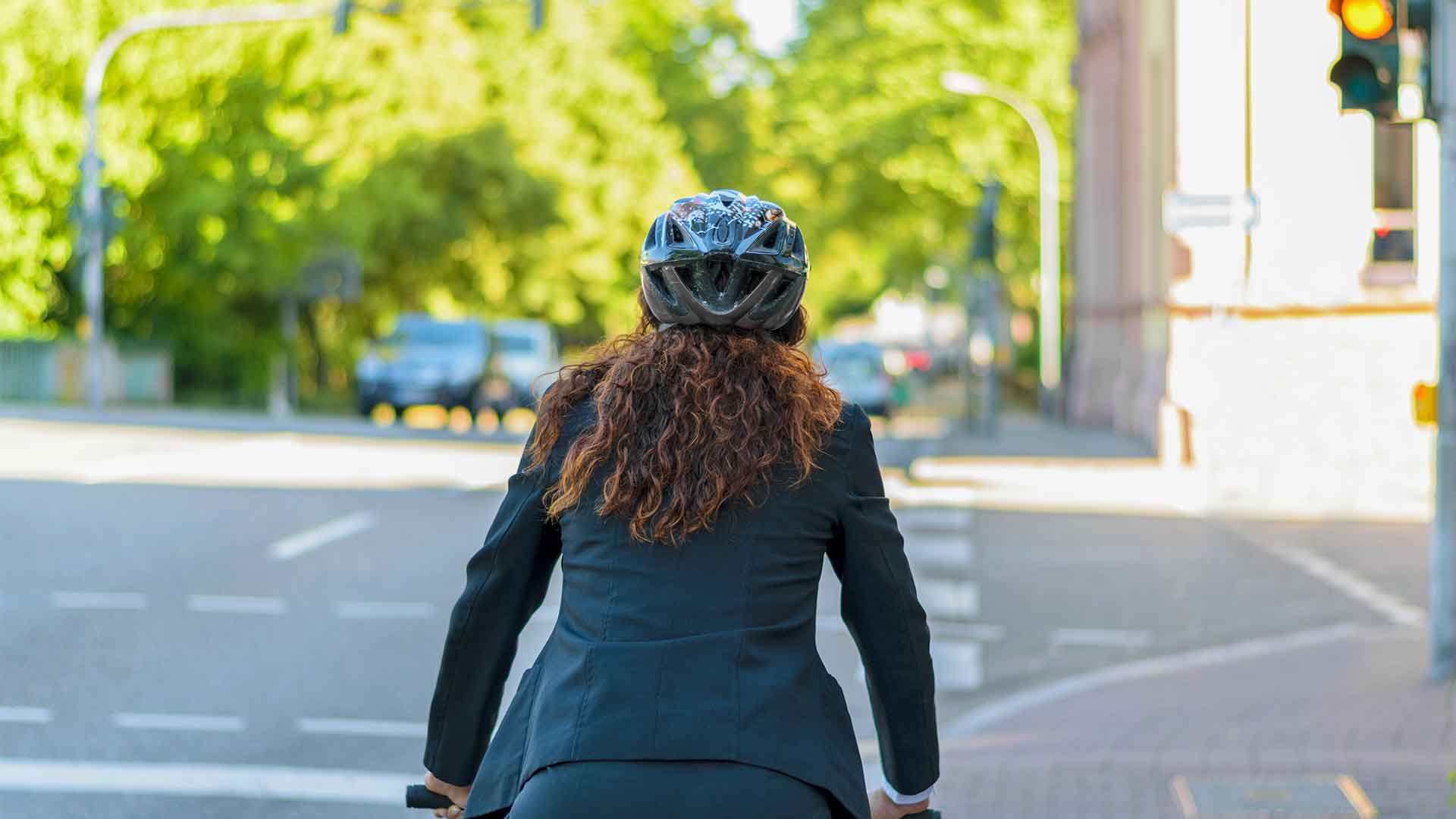 HELITE B'SAFE
WE'VE GOT YOUR BACK
HELITE B'SAFE
SMART. AUTONOMOUS. REUSABLE.
USB CHARGING
A single charge can last up to a week. If in doubt, just plug it in to any USB charger with the lead provided. By the time you're ready to ride, it will be fully charged up
AUTONOMOUS
Once switched on, the vest analyses movement in real time. It is armed when you zip it up, to disarm, unzip.
GET THE LOOK
Black and Hi-vis yellow are stock colours. If you would like something unique, just ask and we can brand them front and rear with your company logo and design.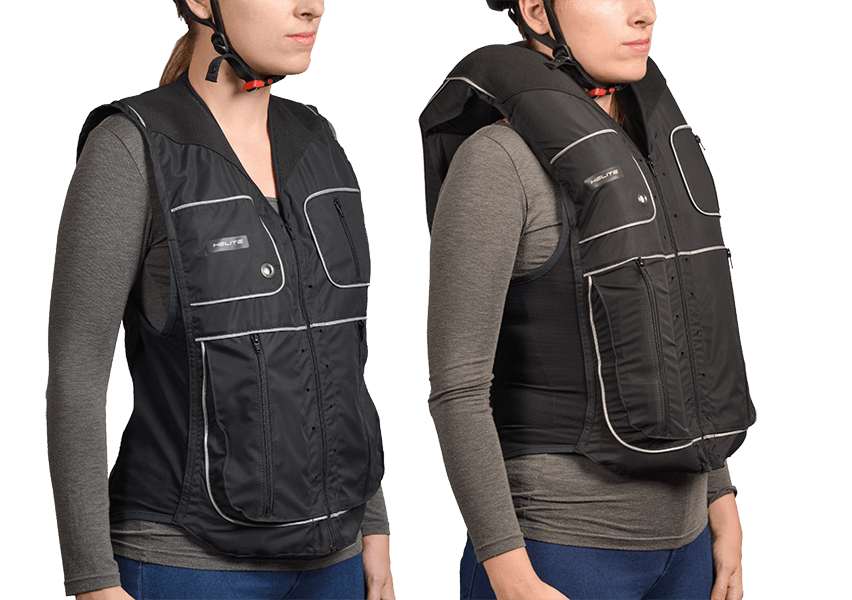 REUSABLE
The vest inflates in 80ms, that's around four times faster than a blink. You can reset it yourself simply with a replacement canister cartridge.
SMART PROTECTION
This airbag is constantly analysing movement and comparing it with in-built risk models. In the event of an incident, the vest will trigger automatically. You do not need to do anything.
ULTIMATE CYCLING AIRBAG
Lightweight stretch panels and advanced materials make this the most practical solution to improve the odds in your favour. After all, airbags are for life.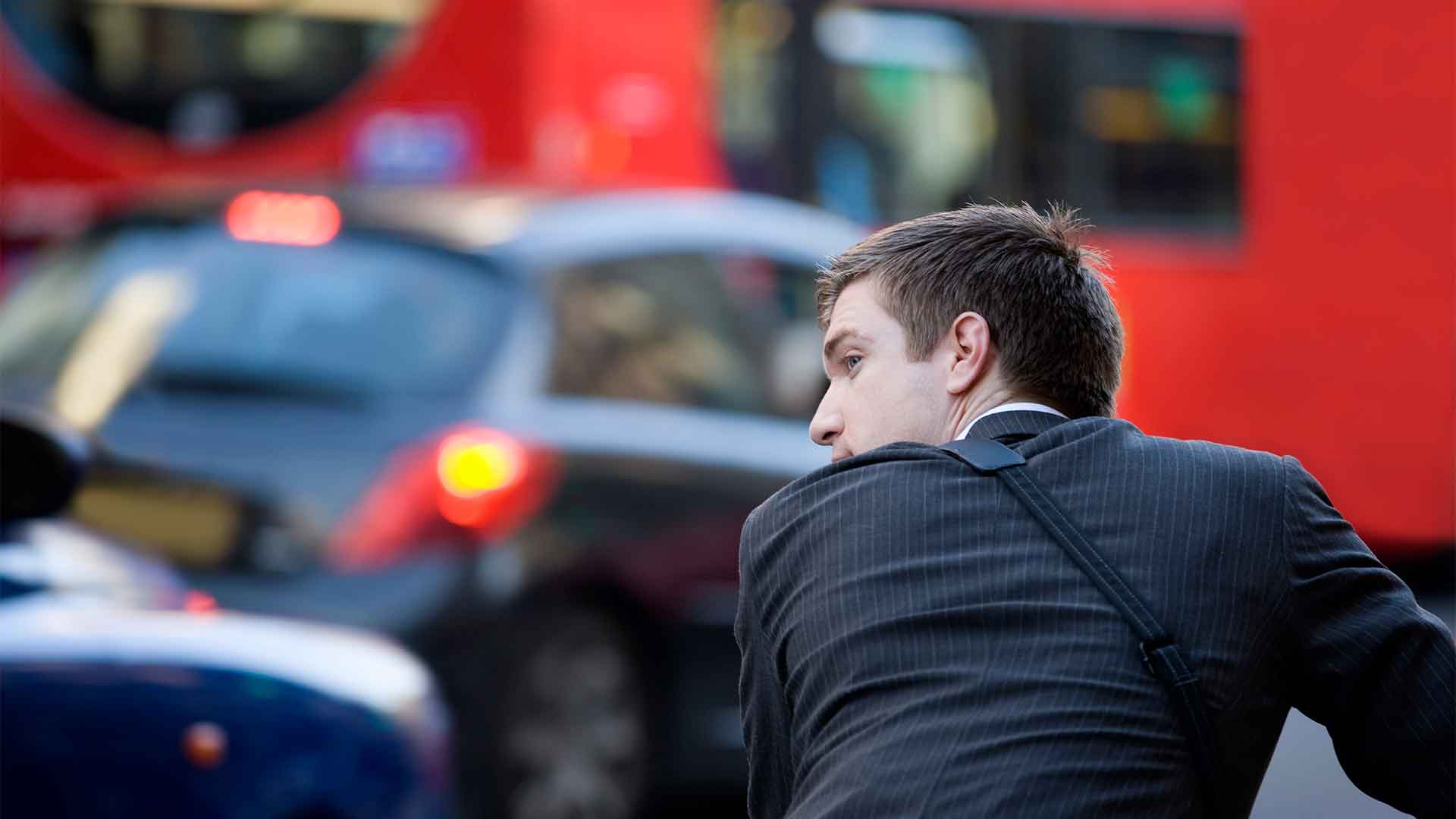 HELITE B'SAFE
WE'VE GOT YOUR BACK
HELITE B'SAFE
COMFORT
ADJUSTABLE FIT
Clever stretch mesh panels allow you to move and breath. You don't wear a business suit to a spin class, so why cycle to work wearing one? Choose some comfy clothes knowing you're protected. Popping out for lunch with a client? slip the B'SAFE on and you have an appropriate and professional look. Always wear with an approved cycling helmet. This is the detail garment engineering you can expect from HELITE. WE PROTECT YOU.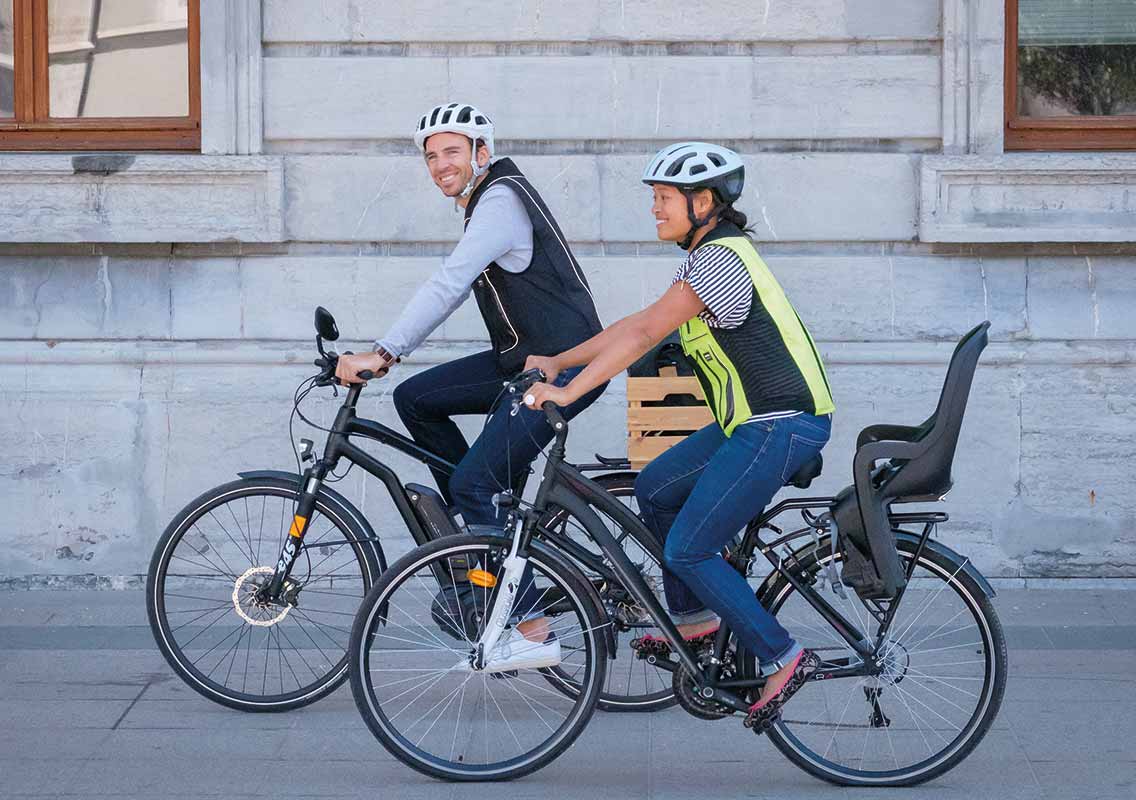 KEEP HEALTHY
We know we need to be more active, and wearable tech is helping us set our own goals. Now you can cycle with confidence. Get the Confidence to Commute. #RIDETOWORK #LOVELIFEANDRIDE #CONFIDENCE
BE THE CHANGE YOU WANT
Change the school run to the school ride. Why not? Spring is coming. #healthy
4 YEAR WARRANTY
HELITE products are built to last. Invest in your health with peace of mind.