---
PERSONALISE YOUR HELITE
GET YOUR OWN LOOK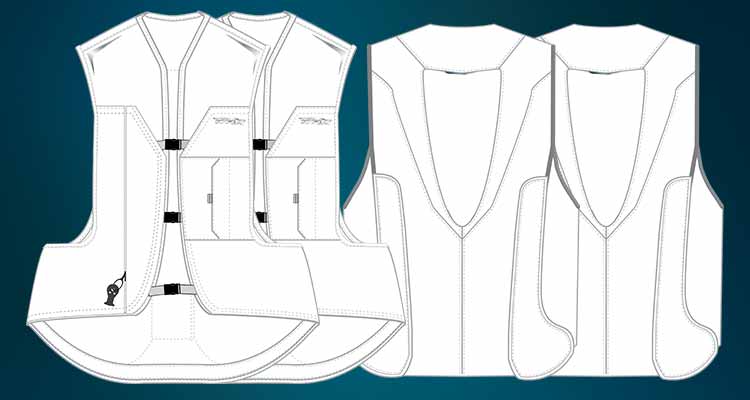 WHY PERSONALISE YOUR HELITE AIRBAG?
HELITE make some great products, but there is always room to customise. Personalising your own HELITE airbag vest is a great way to get your own look.
WHAT CAN I DO MYSELF?
You can easily customise both the HELITE CUSTOM road vest and GP AIR Track and Race vest. On both products, you can get easy sewing access to front and rear panels, so adding your own insignia or sponsor logos is straightforward. HELITE AIRNEST, TURTLE and TURTLE 2 have fixed airbags which are not designed to be removed - personalising these is best done by us.
HELITE CUSTOM
This is the perfect airbag system for road users to add their own personal style. Made from selected hides, this leather airbag vest is fully customisable. Open up the access zips and remove the HELITE TURTLE airbag system. You can then get clean access in to sew on a wide variety of patches and insignia.
HELITE GP AIR
This is designed for adding sponsor logos to the front chest armour, and rear central and hockey-stick sections. Talk to us if you need a custom colour scheme or more advanced customisation
---

---
Did you know we personalise HELITE airbag vests and jackets for Emergency Services, Blood Bike Groups, Road Safety Charities, Bike Clubs and Organisations. From a single vest to the largest order, we offer a full professional solution including design, graphics, sewing, stock-holding, logistics and servicing.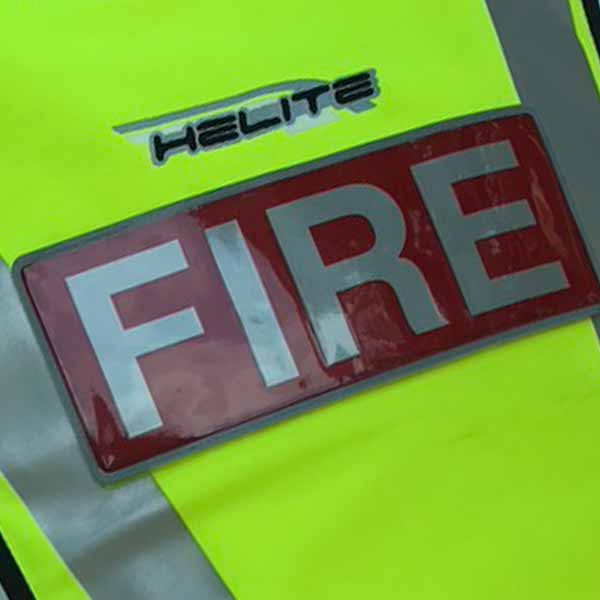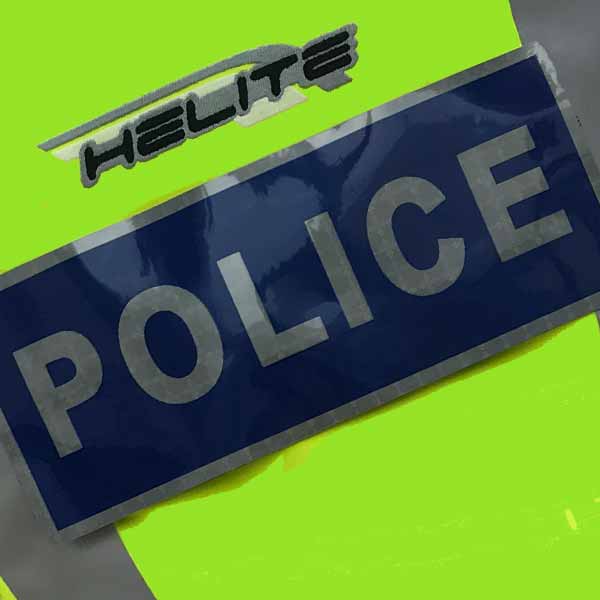 ---
EMERGENCY SERVICES
CUSTOMISATION
BLUE LIGHT CUSTOMISATION SERVICE
We work closely with you to deliver workable solutions, from initial design to implementation, logistics support including on-demand supply for personnel who are new to role.
16 UK POLICE FORCES WEAR HELITE
From individual Officers through to Vehicle Training and Individual Issue, a growing number of serving personnel trust HELITE to protect them. With the highest level of protection and lowest Total Cost of Ownership (TCO) of any Airbag Vest, HELITE TURTLE delivers.
KENT FIRE AND RESCUE WEAR HELITE
We are proud to be an Official Supplier to Kent Fire and Rescue Service, whose pioneering work in the promotion of Road Safety through KENT FIRE BIKES and BIKER DOWN have rightly earned them a leading role in outreach and rider education within the UK
FLEXIBLE AND ADAPTABLE
We provide a wide range of customisations on HELITE Turtle vests including:
Fixed or removable lapel insignia
Radio shoe mounts
Fixed or removable rear insignia
Additional pockets and loops - restrictions apply
Custom colours and design
And in addition, for HELITE fully integrated Airbag Jackets:
Fully customised all weather integrated airbag jackets
Fully customised vented summer airbag jackets
MOTORCYCLE DOCTORS AND PARAMEDICS
Adapted to include additional carrying pockets and loops, these HELITE TURTLE vests offer a practical approach to delivering outstanding protection for vulnerable riders. Talk to us about your specific requirements, we have access to a unique set of capabilities including working with the factory to ensure that your designs and ideas can be incorporated.
BLOOD BIKE GROUPS
We have practical solutions for providing riders who are engaged in volunteering with personal issue HELITE Airbag systems that work seamlessly with NABB uniform, including removable insignia. Additional lanyards can be supplied for all liveried motorcycles and we provide additional discounts to reflect the charitable status of each group.
---

---
REQUEST FOR INFORMATION
Complete this short form and we will be in touch to discuss your requirements
---
GET YOUR RACING LOOK
We can help you achieve that full custom look for your HELITE GP AIR to match your bike and existing leathers. The possibilities are endless, and there is so much choice for every budget. Options include:
Professional Sewing Service- apply those sponsor logos accurately
Printed Leather Panels - we can cut, print and fix printed leather panels front and rear
Recolour Service- panels are re-coloured to give a dramatic change in background colour
PROFESSIONAL SEWING SERVICE
Our experts know how best to apply your logos for a professional finish. From the positioning, selection of thread, stitch length, spacing and alignment, your HELITE GP AIR is in the best hands. Typical turn around time is a few days from receipt, this can vary during peak periods in the season. Always let us know of any imminent deadlines you have and we will do our best to help.
PRINTED LEATHER PANELS
Racing grade, selected hides are precision cut to our template and pre-coloured. These are then professionally over-printed with your design, logos etc., allowing a wide range of styles and bright, popping designs. At club racing level, these offer great flexibility and come in at a reasonable cost. If you do happen to have a 'racing incident' then they can be replaced quite simply and are highly cost effective. We can keep your design on file allowing you to keep the confidence of your sponsors and ensure a professional look at every competition round. Allow time for your design work to be completed and applied. Subsequent orders can be supplied independently of the airbag vest for some of the panels if required.
RECOLOURING SERVICE
Recolouring the base vest takes time to do and there is a limit to what this can achieve. Generally the mid to darker shades achieve the best finish, however we have achieved great results across the colour spectrum. The technique involves firstly recolouring the whole vest to a common base colour. Once this is achieved, we gradually build up the new colour. All this is fairly labour intensive, but the results are a durable and unique colour finish. For more information please complete the race customisation form, telling us as much about what you would like as possible. Attach any photos you have of your bike / leathers for reference.
---

---
RACE CUSTOMISATION INFORMATION REQUEST
---

---
WARR'S HARLEY DAVIDSON
ULTIMATE LEATHER VEST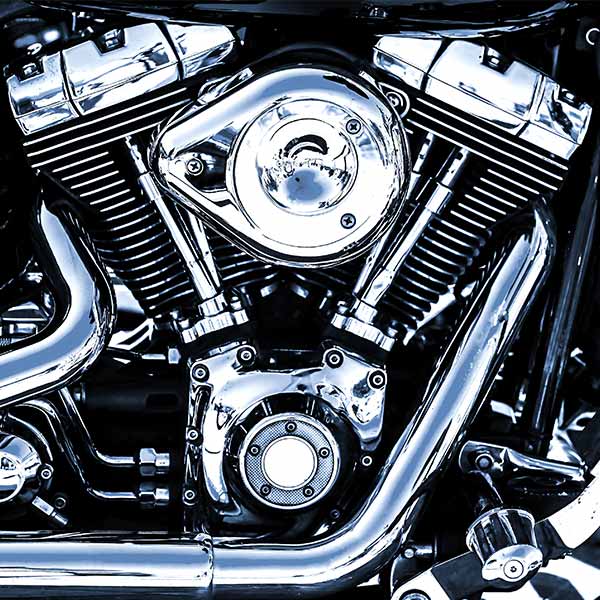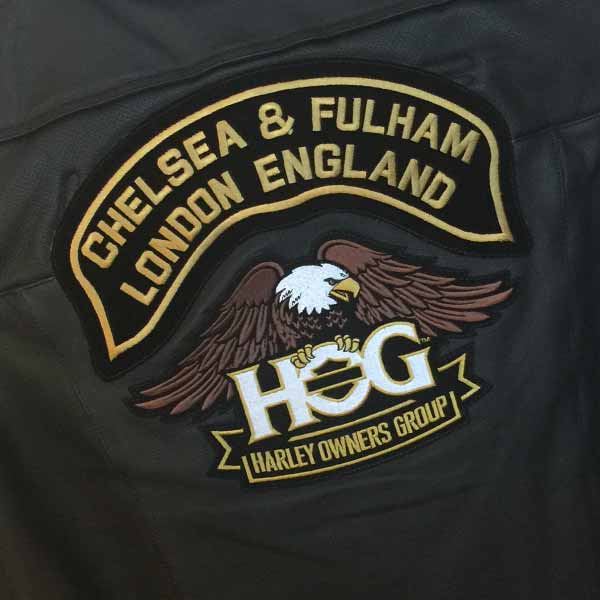 PREMIUM QUALITY LEATHER AIRBAG VEST
Warr's Harley Davidson are Europe's Premier Harley Davidson Dealership. Conveniently located right in the heart of London, Warr's has been serving customers since 1924.
ULTIMATE LEATHER AIRBAG VEST
Working closely with Warr's we developed a pre-sewn leather airbag vest, designed to deliver high levels of protection but in a package that does not sacrifice style.
HOW CAN I GET THE LOOK?
These custom airbag vests are available in store from Warr's Harley Davidson, or if you would like your own design we can do that too. Looking for a preferred supplier to your bike club? We're happy to help.
HOG CHAPTERS
We are happy to work with you to pre-sew your Chapter rocker patch and choice of insignia, just contact us for more information Buy with confidence - each Warr's Ultimate Leather Vest is build on a HELITE CUSTOM and comes with a four year warranty./br>
---

---
Did you know we can personalise HELITE CUSTOM Leather Airbag Vests for you and your club? Club and Chapter orders attract discounts and raise money for good causes. We offer a full professional solution including design, graphics, sewing, stock-holding, logistics and servicing.
PLACEHOLDER FOR PRODUCT LINKS TO SHOP